Patients who are in the hospital and are already on dialysis (hemodialysis or peritoneal dialysis) are able to continue their treatment while in the hospital.
Patients needing emergent and/or short-term dialysis are treated.
Patients newly starting dialysis who will continue on with dialysis in an outpatient setting are treated at ORHC.
A Nephrology consult is provided and the nephrologist supervises all inpatient dialysis care.
A trained surgeon is present to place a temporary or permanent hemodialysis catheter; for a permanent fistula a referral to another facility is done at a later date.
All of the dialysis treatments are given by a specially trained nurse. These nurses work at a chronic unit in Ottumwa.
The nurses are contracted by the hospital to provide dialysis care for inpatients.
The dialysis service has a trained dialysis nurse educator.
Dietician services are provided by a registered dietician to all inpatient dialysis patients.
A Social Worker will assist with referral to a chronic dialysis unit as needed.
Next Steps
Meet Our Inpatient Dialysis Providers: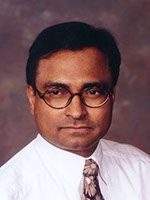 Jashim Ahmed